The WorkCast Online Event and Presentation Platform: Designed to Make Your Online Events Great
Fuss Free Software
Intuitive and adaptive software that's ready to go
Plug In and Go
No hidden extras, apps or downloads
Analyse
High-level, inbuilt metrics and analytic capabilities
World Class Events
Market leading Event Creation suite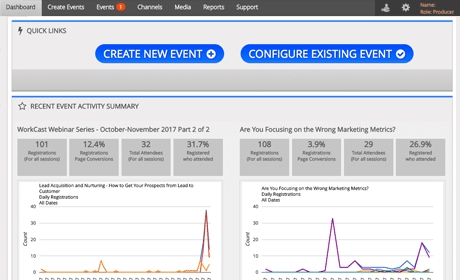 Built for World Class Online Event Creation
The WorkCast Platform makes your Online Event creation process fuss free. Our award winning software is at the top of its game and is constantly evolving to provide world class event creation capabilities. The Platform comes to you ready to go; there's no hidden extras or apps to download, just plug in and begin building engaging online events.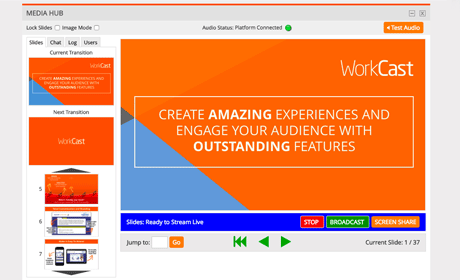 Make Your Events Better
The WorkCast Platform has many interactive features and includes our unique support of PowerPoint slides. This means the Platform replicates your slides as you intended them, including embedded video, animations and transitions, with no compromise in quality.
Additionally, our scalable self-service and monitored packages mean you can be sure there's a WorkCast package that will suit your budget and requirements.